A cloud-based EDI integration solution gives companies the ability to manage a trading partner network of any size using a scalable, secure platform. That was the experience of Kelley Parkes, Director of Technical Operations for First Source, a gourmet food distributor who uses Dell Boomi AtomSphere integration platform as a service (iPaaS) for EDI.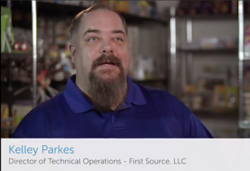 In this video, Parkes explains how using AtomSphere's EDI integration capabilities has changed the way First Source processes orders for its trading partners. With its EDI integration capabilities, via Dell Boomi AtomSphere, First Source now has the 24×7 capability to:
automatically receive orders
send invoices
distribute shipping information
create scheduled reports for management
Watch the video now to hear about the other benefits First Source has experienced by using Dell Boomi for EDI or read the First Source customer success story.