What if you could reduce the complexity of the data sharing between applications within your organization? Or eliminate missed upsell opportunities? Even process more orders, faster?
LinkedIn did just that, and more—using Dell Boomi AtomSphere integration platform as a service (iPaaS) to automate their lead-to-cash process by integrating Salesforce.com and Oracle eBusiness. During Gartner's Catalyst Conference in San Diego, LinkedIn's Evan Chao, Chief of Staff, Global Sales Systems and Prafulla Patil, Manager Solution Architecture, relayed their experience using AtomSphere.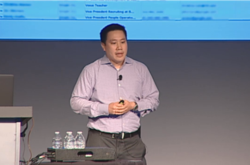 In a session titled, LinkedIn: Build Modern Apps Integrated with You, Chao and Patil discussed the benefits of automating these processes, including:
80 percent reduction in the number of data entry fields required
72 percent reduction in order cycle time
100 percent reduction in missed upsell opportunities
In addition to those benefits, LinkedIn was able to provide integration between Salesforce and Vertex tax software to create transparency and alignment with customer budgets and reduce tax-related cases.
See how LinkedIn did it – watch the video now.